The Lowdown

Campiones Campiones Ole ole Ole!
Campiones Campiones Ole ole Ole!

Moscow was drowned in this one voice for an entire night,on the 21'st
may.Two and a half months from then,sadly,what most fans remember from
the summer is Cristiano Ronaldo's flirtation with Real Madrid. After two
whole months of media speculation,dilly-dallying from Ronaldo's
side,there has finally been an agreement as to where Ronaldo's loyalties
lie,for now.During all this commotion,many have forgotten that the
bucketload of goals United scored were mostly off the boots of the same
man,Ronaldo. With his unpredictable future,United must find a
conventional Center Forward to bang in the goals, and as such Dimitar
Berbatov is widely expected to be brought in.Notable Departures from the
club included the highly rated young Center Back Gerard Pique,who left
for former club Barcelona,and Chris Eagles.Young wingback Danny Simpson
joined Blackburn on loan for the season. Other teams around United have
strengthened considerably during the current transfer window,most
notable being Liverpool's signing of Robbie Keane and Chelsea's
acquisition of Portuguese wizard Deco.Tottenham too have made 3 killer
signings,those of Gio dos Santos,Luca Modric and David Bentley. And
Yet,the strongest squad remains that of United (on paper at least). The
Excellent van der Sar in goal,The rock solid partnership of Rio and
Vida,The enthusiasm of Evra,the experience and guile of
Giggs,Scholes,Neville and the holy trinity of Rooney,Ronaldo and Tevez.
Every player of this starting Lineup would absolutely walk into any
team.Added to that the up and coming youngsters,the United squad is big
not only on numbers,but big game potential as well.The summer saw the
departure of Carlos Queiroz as he took up the Portugal Manager's
post,vacated by Big Phil Scolari,who has since joined Chelsea. A shrewd
tactician and an able coach,Carlos will be missed by United.Ferguson has
started looking at potential assistant managers,and he reckons the club
will have appointed someone by September.


The Preseason

United had a fruitful preseason tour, which included visits to the
gaffer's old club Aberdeen,African Clubs Kaizer Chiefs,Orlando
Pirates,Portsmouth,Peterborough and Juventus
The results were as follows:

Aberdeen 0-2 United
Kaizer Chiefs 1-1 United
Orlando Pirates 0-1 United
Kaizer Chiefs 0-4 United
Portsmouth 1-2 United
Peterborough 0-2 United
United 0-0 Juventus

In addition,United also featured in a game at Old Trafford against
Espanyol,which was a testimonial for Ole Gunnar Solskjaer,a true United
Legend,who retired this past season.



The Squad





Expectations

John Terry has come out and said "I don't think United have another
level to go to. They had a lot of players who have been at the peak of
their form for the last two years." Indeed,United have been nothing
short of sensational for the last 2 seasons.However to say they are at
their peak is folly.The average age on the united squad is purely down
to VDS,giggs,scholes and neville,all of whom are well over 30.The rest
of the squad is all in their early 20's.So they have a lot of
improvement to make.



Edwin van Der Sar: At this point in time,he is the Best Goalkeeper in
the World.Period.United would be more than happy if he just maintains
his current vein of form.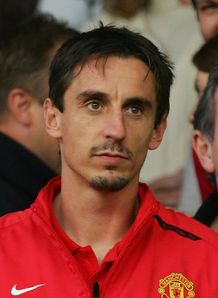 Gary Neville : Club captain,heart and soul,inspiration.He's back from a
horror of an injury,and it will be interesting to see how well he can
link up with Ronaldo.



Carlos Tevez : This season,he is going to tear teams apart.You can see
it,you could feel it,all though the preseason,he's a man on a mission.He
will also be even keener to perform now that United have agreed to sign
him permanently.



Wayne Rooney: Constant injuries wrecked his last season.Is this the time
when he comes out of Ronaldo's shadow and fulfils the potential we all
know he has?



Cristiano Ronaldo: After the long running tansfer saga,Cristiano Ronaldo
has pledged to fight for the club with the same dedication.However what
reaction will United fans give him after the summer circus? Will he come out
of it all guns blazing just like after Rooney WC incident? It all remains
to be seen.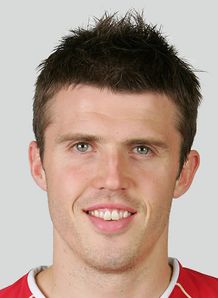 Michael Carrick: A vastly underrated player,he has been consistently
ignored by the England NT despite the consistent stellar performances
from him in a United shirt.No wonder the English NT sucks bigtime ;)
Last season his partnership with scholes and sometimes anderson unlocked
many a defence,leaving the stars like Ronaldo with the rich haul of
goals.


Apart from these,the rest of the squad,too, will expect to raise the bar
further from last season.However,the age of Ryan Giggs and Paul Scholes
may limit their first team appearences.Owen Hargreaves will look forward
to an injury free season to justify his price,while Wes Brown will fight
tooth and nail with the captain to claim his place at right back,a place
he made his own last season.


The Fledglings
Last season,United shocked europe by landing two of the best talents of
the game,Anderson (Porto) and Luis Nani (SCP).Despite being relatively
inexperienced,they were thrown onto the battle zone relatively early,due
to injuries to Giggs and Scholes.Both of them passed this test with
flying colours and have become instant favourites with the crowd.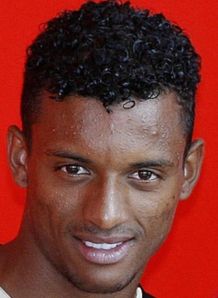 Nani:
Nani has quicly made his reputation as a skilful,volatile player who can
shoot as well as pass.Many regard him to be a better 'winger' than
Cristiano Ronaldo of 4 years back.Undoubtedly he will feature a lot this
season,with Giggs declaring that this may be his final season and
Ferguson calling for mature performances from Nani.His long range
rockets and somersaulting celebrations will no doubt be ones to watch
for.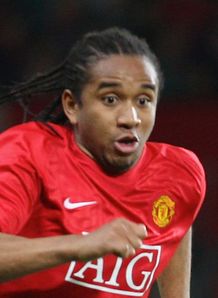 Anderson:
Anderson's performances last season in the absence of scholes were one
of the best debuts by a player for United.His grit,determination,flair
and temperament came to the fore with a memorable performance against
Cesc Fabregas.It is inevitable that Anderson will play a much bigger
role in this season's plan,with his surging runs sure to terrorize
defences and make space for the more advance players.


The Youngsters



In addition to the first team lads,almost all of the youngster that
featured in the preseason games impressed immensely.New arrivals Fabio
and Rafael Da Silva have instantly caught the eye of the manager and are
expected to feature heavily in the Carling Cup as well as the Initial
rounds of the FA cup.



Same will be the case with Jonathan Evans,whose great form has allowed
ferguson to sell Pique.Another recent arrival,Rodrigo Possebon,has been
a star for the reserves and will nodoubt feature heavily too.Fraizer
Campbell's rich exploits at Hull have ensured that he will stay at
United this season and feature in games,as will Young Striker Danny
Welbeck.


The Tactics

With the sheer volume of talented,versatile players available at his
disposal,Sir Alex ferguson has a plethora of tactical options.The
arrivasl of a proven target man would facilitate the use of the 4-3-3
formation which we saw in numerous games last season.He can also Employ
a 4-4-2 with one striker retiring to the bench.Ferguson showed that he
has accepted and perfected the slightly defensive 4-5-1 formation
(Barca in the Semis) and can employ it as such.

Ferguson will have an interesting dilemma this season.He surely
understands that going for all trophies is virtually impossible.It will
be interesting to see what he wants more,to defend the presigious
Champions League or secure a AHt-trick of League titles,equalling
Liverpool's all time record?

Summary
This will really be a close season.All other teams in United's vicinity
(Table-wise) have strengthened heavily.Add to that the added
distractions of the Club World Championship and the Super Cup will no
doubt be a potential banana skin for Ferguson and his men.New managerial
threats of Scolari and the astute Juande Ramos will be tough to
tackle.One thing is for sure.The competition is fiercer than ever and
Only the best will prevail

My Prediction
Carling Cup: Finals at least
FA Cup: Semi finals
Barclays PL:WInners
Club World Championship: Winners
Super Cup: Winners
Let the games begin!
Champions league: Winners
...
...♦
... ♦
... ♦
...